Next Tournament : Special Invitational – Net Trophy
October 4, 2017
Plainfield Country Club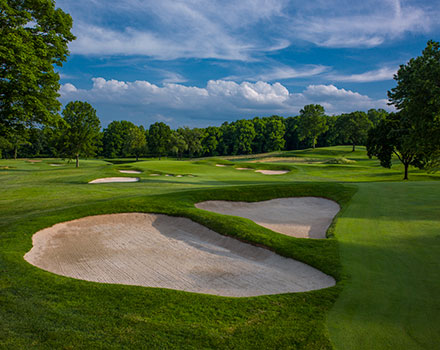 Plainfield Country Club is most notably famous for its world-renowned Donald Ross golf course that recently was restored by leading golf architect Gil Hanse. Our turn of the century clubhouse offers indoor and outdoor fine dining on the highest point in Middlesex County; overlooking New York City and the Watchung Mountains.
Since its founding in 1890, PCC has always had a tradition of giving back to the game of golf and its local community. The club was the host site for the top 125 PGA TOUR professionals at the Barclays in August of 2011 (won by Dustin Johnson), and again in 2015 (won by Jason Day). The Club will host the first round of the PGA TOUR playoffs in 2020 for the Fed Ex Cup. This event generates millions of dollars for local charities in the surrounding communities. Our members are proud of being the first private country club to start a First Tee Program. We proudly donate each year to our First Tee Program, these contributions furnish funding for college scholarships for needy children in central New Jersey.
Founded in 1890 as the Hillside Tennis Club, Plainfield has enjoyed a revered reputation among families and golf lovers alike. The main course was designed in 1916 by Donald Ross. The Club has hosted two U.S. National Championships as well as a number of State and Regional Championships. Plus our course has continually ranked among the best in the country.
Over the past 10 years, Plainfield Country Club has undergone an extensive restoration and renovation program under the direction of architect Gil Hanse, involving the removal of over 1,200 trees, the rediscovery of a number of lost bunkers covered in prior years, expansion of 16 greens, and the lengthening of 12 tees to reflect modern equipment and skills. We are proud of our accomplishments, and heritage.
Recent Results : Better Ball of Partners Match Play Championship
August 28-29
Cherry Valley Country Club
Championship Flight
Kamille Caufield/Donna Cortina
First Flight
Donna McHugh/Rose Wishner
Second Flight
Stephanie Schmidt/Julia Chu
(Full Results can be found here.)
Our Mission
The GSWGA is a non-profit organization that was founded on November 10, 1953 in order to provide statewide competition for New Jersey's best women amateurs.  The tremendous amount of interest in women's golf in the metropolitan area spurred the creation of the GSWGA by eleven Founding Members representing Founding Clubs.  Over the years we have enjoyed a steady expansion to our present relationship with nearly fifty New Jersey clubs.
The GSWGA is also an important competitive bridge between golf on the local and national levels – a proving ground for New Jersey's most talented women.
Beyond competition, our members volunteer a significant amount of their time to such organizations as the USGA, NJSGA, WMGA and the Women's Trenton District GA.  In addition, many of our members have been honored by these and other organizations for their extraordinary service the the game of golf.