Next Tournament : 36 Hole Stroke Play Championship
June 6 & 8 2017
Brooklake Country Club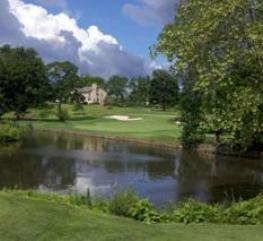 Brooklake Country Club (BCC) is located in the heart of Morris County New Jersey and is within a 45 minute drive of New York City. Our golfing tradition dates back to the 1800's when it was first built as part of a private estate.  Established in 1921, as Braidburn Country Club, the original layout was designed by renowned Golf Architect Herbert Strong.
In 1985, under new ownership, it was renamed Brooklake Country Club and the layout was redesigned under the expertise of Geoffrey Cornish. Mr. Cornish is widely regarded as one of the leading experts in golf course design. He has authored several books on golf course architecture and its history.
Set upon 150 acres, the course offers four sets of tees ranging in yardage from 5,190 yards to its championship length of 6,926 yards. Course highlights include a par four island green 10th hole and a par five 18th hole that measures 630 yards from the championship tees and requires a shot over water to the green.
In its history, the course has hosted several state and regional championships as well as many celebrity golf events.
Recent Results : Opening Day
May 18
Maplewood Country Club
1st Place
Jen Green, Kate Platt, Suzy Walsh, Cathy Fischberg
2nd Place
Nancy Cole, Karen Donofrio, Liana Chirichella, Catarina Ryan
3rd Place
Liz Hickey, Colleen Edelman, Anne Murphy, Mary Ann Richter
(Full Results can be found here.)
Our Mission
The GSWGA is a non-profit organization that was founded on November 10, 1953 in order to provide statewide competition for New Jersey's best women amateurs.  The tremendous amount of interest in women's golf in the metropolitan area spurred the creation of the GSWGA by eleven Founding Members representing Founding Clubs.  Over the years we have enjoyed a steady expansion to our present relationship with nearly fifty New Jersey clubs.
The GSWGA is also an important competitive bridge between golf on the local and national levels – a proving ground for New Jersey's most talented women.
Beyond competition, our members volunteer a significant amount of their time to such organizations as the USGA, NJSGA, WMGA and the Women's Trenton District GA.  In addition, many of our members have been honored by these and other organizations for their extraordinary service the the game of golf.