Next Tournament : Pinehurst Championship
June 9 – 10 2016
Hopewell Valley Golf Club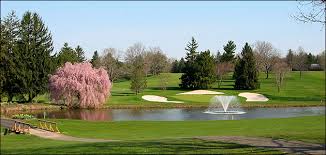 Mr. Thomas Winton, noted Scottish golf architect, was commissioned on October 16, 1927 by Hopewell Valley Golf Club's first president and co-founder Dr. T.A. Pierson to design an l8-hole golf course for the Club. The course opened to member play in the spring of 1928. Thomas Winton (1871 – 1944) was the son of a famed Scottish golf professional and club maker James Winton. It was from working and studying with his father that inspired Thomas' love and respect for the game of golf and the desire to pursue design and construction of golf courses. The Scottish heritage and design-style of Thomas Winton is visible throughout the Hopewell Valley Golf Club. The design of the course places the front nine holes around the perimeter of the course spiraled carefully around the back nine holes, thus allowing the meandering Stony Brook to bring hazard and challenge to-five different holes. Small trademark Scottish greens present the golfer with the greatest challenge of the course. The requirement of pinpoint accuracy is made even more difficult by the perfectly placed Scottish-styled deep sand and grass bunkers. Hopewell Valley Golf Club is a golfer's golf course.
Recent Results : Opening Day
May 19
Beacon Hill Country Club
1st Place 64 (MOC)
Liz Hickey, Mary Pucciarelli, Julie Jackson, Sheila Tappan
2nd Place 64
Kathy Carter, Coleen Luker, Pam Cerrutti, Pat Stilo
3rd Place 65 (MOC with 4 other teams)
Susan DeKalb, Honey Fazzinga, Dee Burnham, Fern Epstein
Our Mission
The GSWGA is a non-profit organization that was founded on November 10, 1953 in order to provide statewide competition for New Jersey's best women amateurs.  The tremendous amount of interest in women's golf in the metropolitan area spurred the creation of the GSWGA by eleven Founding Members representing Founding Clubs.  Over the years we have enjoyed a steady expansion to our present relationship with nearly fifty New Jersey clubs.
The GSWGA is also an important competitive bridge between golf on the local and national levels – a proving ground for New Jersey's most talented women.
Beyond competition, our members volunteer a significant amount of their time to such organizations as the USGA, NJSGA, WMGA and the Women's Trenton District GA.  In addition, many of our members have been honored by these and other organizations for their extraordinary service the the game of golf.