Next Tournament : Opening Day
May 18 2017
Maplewood Country Club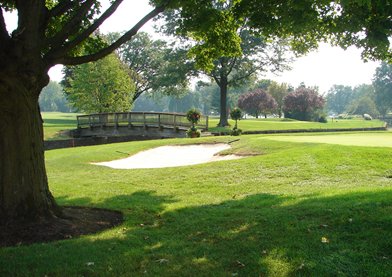 In 1908 a group of civic minded citizens organized under the name of the Valley Land Company for the purpose of providing the youth of the community a location to further their recreation needs. A lease was made on March 2, 1908 for the property of Charles De Grasse, located on the south side of Baker Street, west of Valley Street. The land consisted of 11.17 acres. There was a frame barn on the Baker Street frontage and it is on this site that our clubhouse was built.
At a later date, the Valley Land Company reorganized into the Valley Land Society for the sole purpose of leasing the property. In 1911 several members of the Valley Land Society organized the Maplewood Field Club, which was incorporated in 1921 under New Jersey Statutes as a non-profit corporation. The Maplewood Field Club built four tennis courts as well as a baseball diamond on this property and in 1919 and 1921 purchased additional land to make an 18 hole golf course. In 1953, the corporate name of the Maplewood Field Club was changed to Maplewood Country Club.
Today, Maplewood Country Club, situated on 82 acres, is a versatile facility with a challenging 18 hole golf course, four clay and two "hard tru" tennis courts, a beautiful pool surrounded by an attractive deck, an elegant dining room and a comfortable grill room. We are a private club with approximately 400 members and enjoy a picture perfect location in the very heart of Maplewood.
Recent Results : Closing Day
October 19
Knickerbocker Country Club
1st Place
Kathy Carter, Brigid Lamb, Barbara Colin, Jessica Koehler
2nd Place
Kathy McGrorry, Julie Jackson, Anne Murphy, Dana Fleming
3rd Place
Linda Bullock, Honey Fazzinga, Barbara Mangone, Nancy Muhlstock
(Full Results can be found here.)
Our Mission
The GSWGA is a non-profit organization that was founded on November 10, 1953 in order to provide statewide competition for New Jersey's best women amateurs.  The tremendous amount of interest in women's golf in the metropolitan area spurred the creation of the GSWGA by eleven Founding Members representing Founding Clubs.  Over the years we have enjoyed a steady expansion to our present relationship with nearly fifty New Jersey clubs.
The GSWGA is also an important competitive bridge between golf on the local and national levels – a proving ground for New Jersey's most talented women.
Beyond competition, our members volunteer a significant amount of their time to such organizations as the USGA, NJSGA, WMGA and the Women's Trenton District GA.  In addition, many of our members have been honored by these and other organizations for their extraordinary service the the game of golf.